BENRUS Type I Dive Watch Hands-on Review: Classy Tool Watch
NOTE: This article is a contribution and do not necessarily represent the views of IBTimes.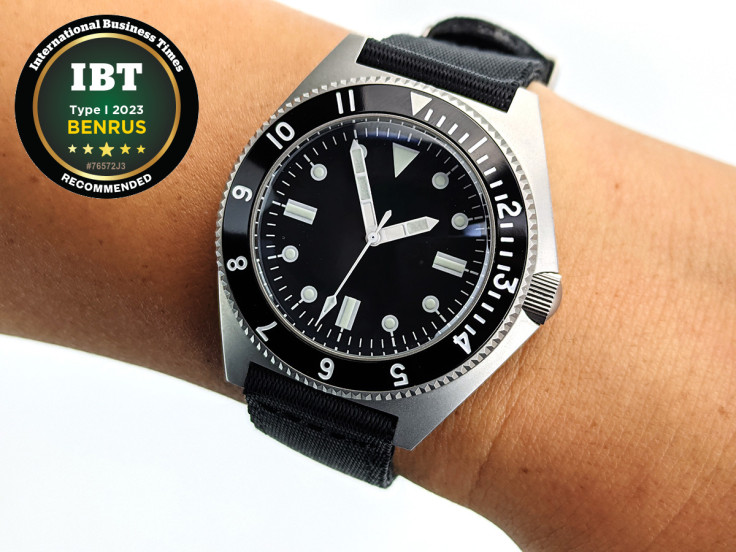 Being one of the few pieces of jewelry men wear, the wrist watch is firmly standing its ground as a classic technology that won't be seeing its end of life anytime soon. In fact, just like the sneaker market, the opposite is happening, and there is a 'resurrection' of classic watch designs and models.
The BENRUS Type I dive watch is such a reissue. The 1972 U.S. military watch that was tailed according to the specialized UDT (Underwater Demolitions Team) divers and field needs. What's especially intriguing is that this watch was not available to the public during the 8 years of its run, and is only now making its way to civilian hands – some 43 years later.
Nostalgic appeals aside, how will a tool watch that was made for the military decades ago do as a EDC watch, or even a dress watch for that business meeting? Let's dive in to find out.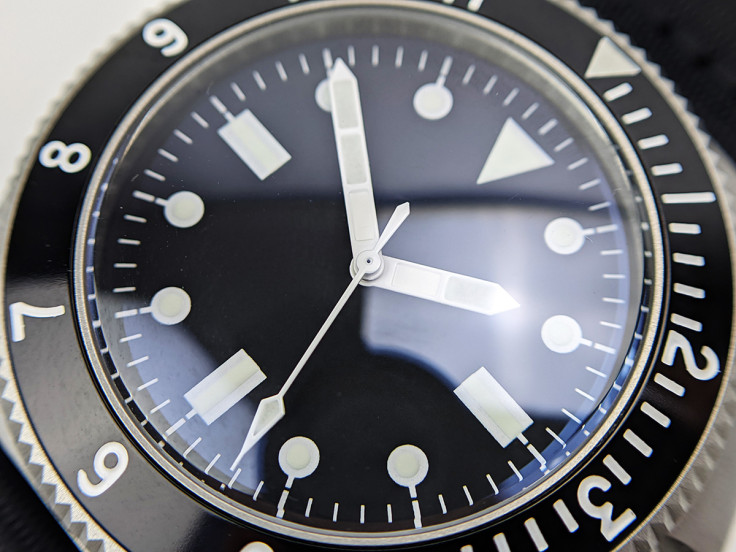 Versatile Minimalist Aesthetics
To be a watch that can be versatile, i.e. one that can be dressed up or dressed down, it has to pull off a minimalist look in a tasteful, timeless way – and the BENRUS Type I dive watch does exactly that. More than four decades later since its first release, its aesthetics don't look a day out of fashion in 2023.
With a nod to the Submariner, it has the reversed triangle 12 o'clock marker, rectangular markers at 3, 6 and 9 o'clock, and round indices for the other hourly markers. Where it differs is that the Arabic numerals are placed on the bezels, with 12-4 marked by indices that can either be used to count out 20 seconds, 20 minutes or 4 hours.
The BENRUS Type I has a simple design, but adds just enough elements to give it character. Though void of colors outside of the monochromatic spectrum, the matte black watchface contrasts nicely with the gloss finished bezel insert. And the overall profile of the case is slightly lopsided, thicker on the crown side, subtly giving the watch its distinct identity.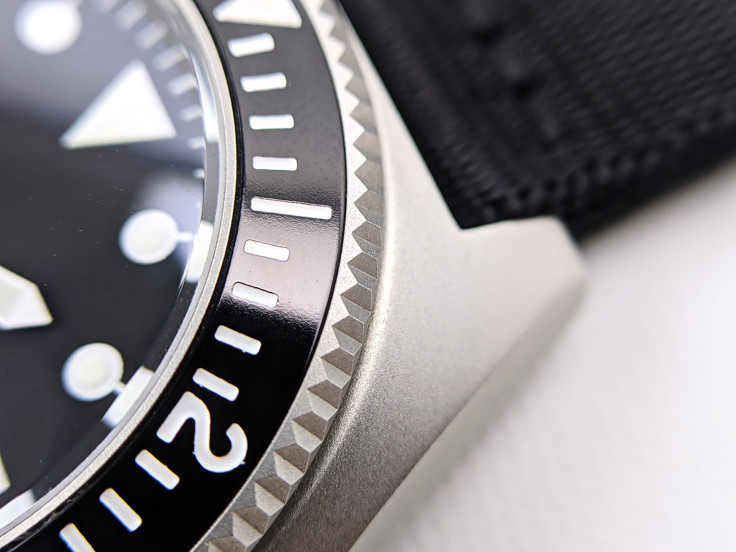 Rugged and Reliable Build
Since the BENRUS Type I was originally designed as a diver for the military, it doesn't come as a surprise just how rugged the watch is built.
The bead-blasted stainless steel case has a low-sheen surface that is much easier to maintain than a polished mirror finish that's prone to scratches and fingerprints. The engraving on the underside of the watch is so deeply etched into the convex back, it would probably not wear off even decades later. The whole watch was made to last, to be passed down from one generation to another.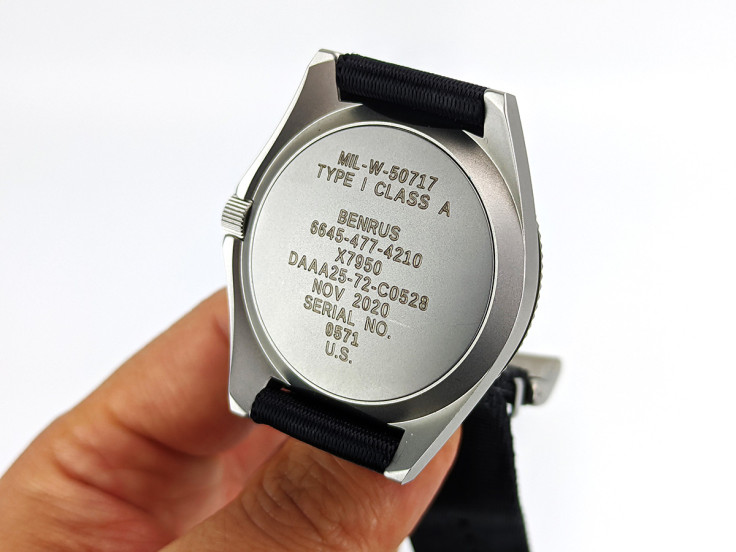 To match the durability and reliability of the case, the BENRUS Type I has an equally reliable movement: a Swiss made ETA 2681 hacking automatic movement. The silky smooth sweeping second hand is not only gorgeous to look at, it also has that coveted Swiss precision. The movement has a decent 40-hour power reserve.
The bi-drectional rotating bezel is one of my favorite features on the BENRUS Type I, as it uses resistance instead of the typical clicky mechanism. Rotating the bezel feels smooth like a hydraulic piston, and holds its position firmly and wouldn't easily move accidentally once set in position.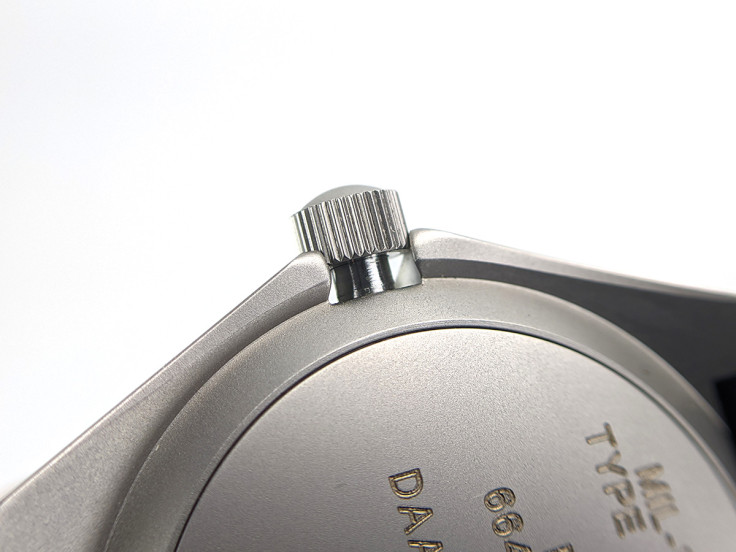 The screw down crown has enough girth that they are easy to grip, but not protrude either aesthetically or physically. The aforementioned lopsided case acts like a crown guard in an ingenious way, that the crown can't easily get caught on something, yet is easily gripped when you need to unscrew it. The finish of the crown matches with the bead-blasted case, and has no special marking on its convex face, making it both rugged and tasteful.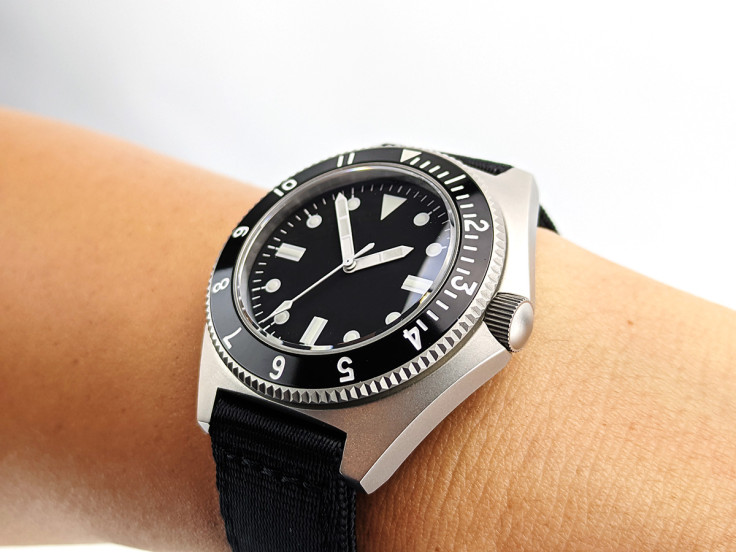 Tool Watch Readability, Dress Watch Wearability
Being a tool watch originally, the legibility on the BENRUS Type I is excellent – despite its rather small face diameter. Though it has a 42.5 mm case (from the tip of the crown to the opposite side), the face is actually only slightly over 28 mm. Though the smaller diameter would mean that the double domed Sapphire crystal would be extremely tough, I was initially worried about the readability. But after wearing it on a daily basis, I found that the design of the hands and indices made it quite easy to read, even with a quick glance.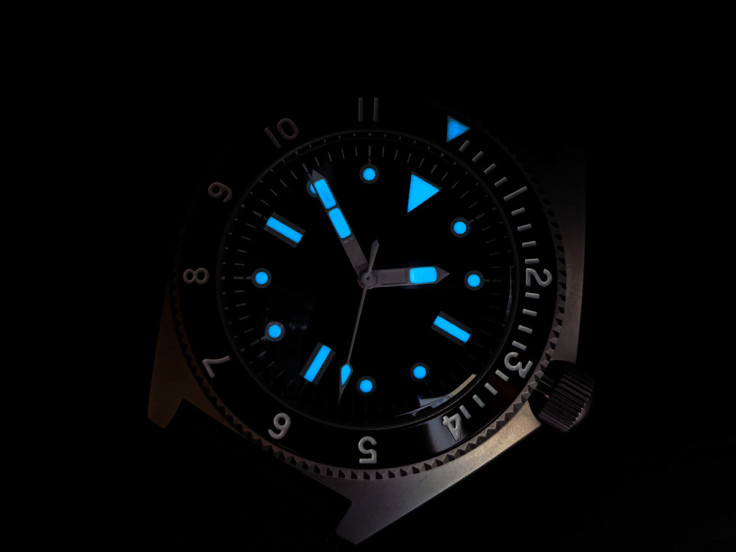 The BWG9 lume that's applied to the hourly indices and hands are highly effective, and would increase readability in low-light situations.
Because of the slim 14.6 mm case height, the BENRUS Type I works well as a dress watch as it won't easily catch on shirt cuffs – despite its automatic innards. In fact the overall profile of the watch is devoid of any protrusions that might pose a catching risk, a design that comes in useful for both dress up situations or EDC usage.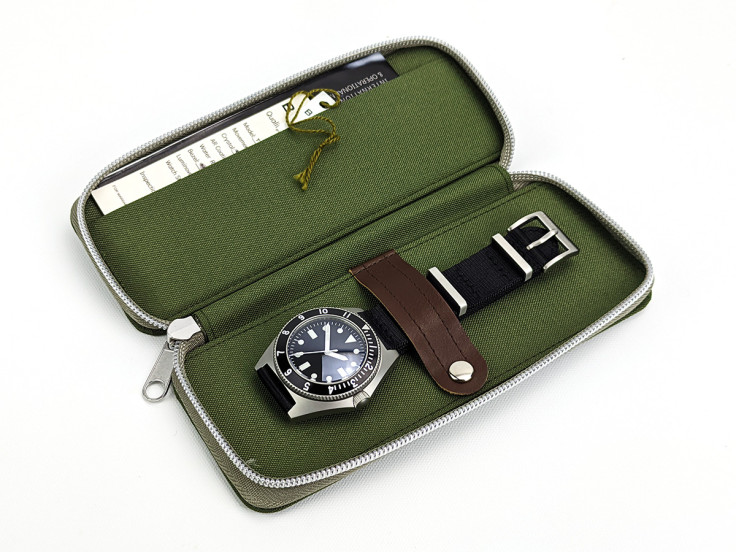 Final Verdict
We're in a day and age where the wrist watch is more than a tool, but a character statement. And the BENRUS Type I exudes a no-nonsense, reliable yet tasteful vibe. The re-issued 70's U.S. military watch is not only built for ruggedness, its timeless design barely shows its age in 2023 and its backstory will show up anyone flaunting luxury watches.
For its enduring aesthetics, rugged and tasteful build, and form factor that would make it comfortable to wear with any business shirt and suit, we're awarding the BENRUS Type I diver watch the IBTimes Recommended Badge as a business traveler's watch.
Read the full article here: https://www.ibtimes.com/benrus-type-i-dive-watch-hands-review-classy-tool-watch-3660394